Erosion and Sediment Control Practices Evaluation – Vaughan, Ontario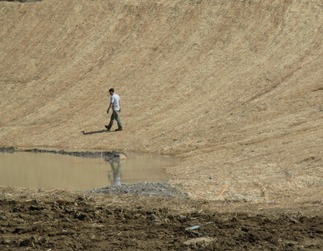 Initiated in 2007 at the construction site of a residential subdivision, Block 39 in Vaughan, this study evaluates structural and non-structural approaches to improving the practice of erosion and sediment control on construction sites. In this study the development of Block 39 serves as a representation of common field practice on construction sites throughout the Greater Golden Horseshoe Area (GGHA).
Approaches investigated have been identified as key areas for improvement through past research and field studies, and consultation with industry stakeholders. The specific objectives of the study are to:
assess the potential for structural ESC measures applied within the catchment, upstream of the sediment control pond, to reduce sediment loads to the pond;

identify barriers to effective communication and other construction practices that impede the application of effective ESC, and recommend solutions;

pilot and refine a staged approach to ESC planning such that controls being used evolve based on the stage of construction; and

examine and evaluate the adaptive process by which ESC practices are implemented and amended throughout the construction process.
The work undertaken to achieve these objectives has included evaluating the effectiveness of on-site structural controls, electronic inspection communication methods, and staged ESC planning. There are three distinct components of this study;
Quantitative and qualitative field monitoring of the performance of conventional and innovative structural erosion and sediment controls

Demonstration of ESC plan staging and documentation of successes and challenges

Piloting of a web-based inspection tool for improved communication of inspection outcomes to project team members and governing agency representatives
Study findings will help to improve understanding of how ESC is applied on the ground, and thereby ensure that future policies, guidance documents and practitioner training continue to promote improvements to ESC practice.