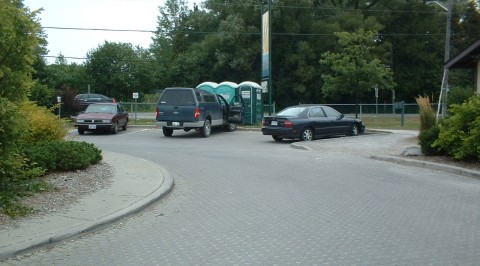 The Sunset Beach permeable pavement site is located at the entrance to Lake Wilcox in Richmond Hill.  The area is a pick-up/drop-off loop with a few parking spaces.  It was constructed in 1999 and while the structural condition is excellent it did have poor surface infiltration.
As part of a 3 year study evaluating the effectiveness of permeable pavement and bio-swales under southern Ontario climate conditions a number of older bioretention areas were surveyed to assess the effect that age may have on various aspects of the infiltration practice.  Soil quality was assessed to determine the extent to which road runoff contaminants build up in soils over time.
Webpage       │       Full report       │       Project fact sheet

The Sunset Beach parking lot was also selected as a field site for evaluating cleaning practices on permeable pavement for the Evaluation of Permeable Pavements in Cold Climates.
The 3 year study of the performance of different types of permeable pavements at the Living City Campus at Kortright in Vaughan is a research collaboration between STEP and the University of Guelph.  The different cleaning treatments ranged from hand sweeping, low and high suction vacuum, pressure wash, mechanical sweeper, regenerative air and vacuum-sweeping trucks .
Address:
112 Olde Bayview Ave., Richmond Hill