Performance Evaluation of Permeable Pavement and a Bioretention Swale – Seneca College, King City, Ontario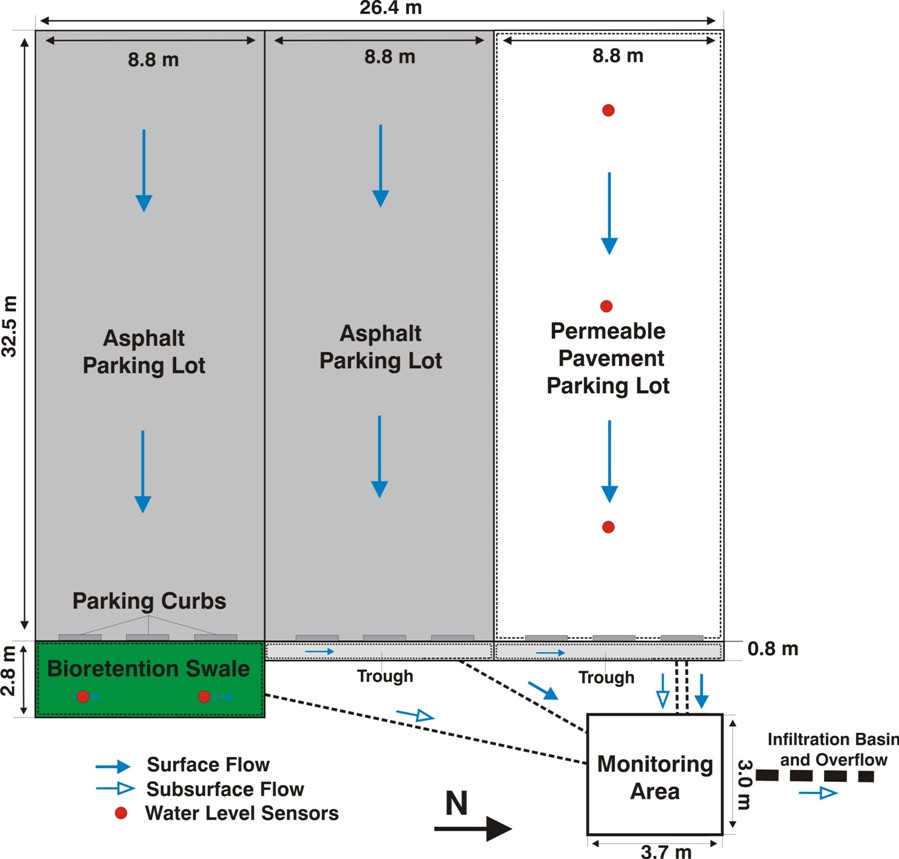 Completed in the fall of 2008, this three year study evaluated the effectiveness of permeable pavement and bio-swales under southern Ontario climate conditions.  The parking lot selected for this demonstration project at Seneca College's campus in King City was specially constructed with drainage collection systems designed to facilitate monitoring and evaluation of the stormwater management performance of the two practices.  Surface and subsurface flows are directed through a sophisticated plumbing system to an underground sampling vault where monitoring equipment is powered by solar panels and a wind turbine.  A section of conventional asphalt pavement serves as a control for comparative purposes.  Click image to see a larger view of the study site.
The field monitoring program included year-round measurements of surface and subsurface water quality, flow rates and volumes, infiltration rates, depth profiles of soil chemistry, surface and subsurface temperatures, pavement strength and maintenance issues.  Older permeable pavement and bio-swale sites in the Greater Golden Horshoe were also monitored to assess how well these stormwater management practices stand up over time.   Overall, results were very positive showing good infiltration, improved water quality, limited impacts to soils and low potential for groundwater contamination by sediment bound particulates such as metals and hydrocarbons.