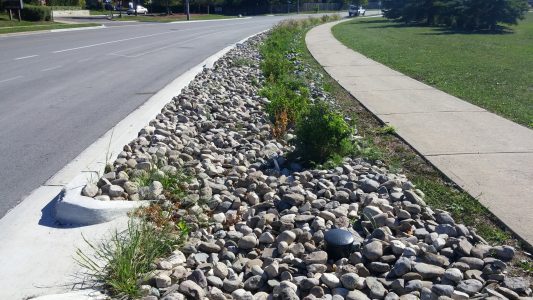 This 1 year study initiated in 2015 evaluated the effectiveness of a biofilter swales retrofit project along County Court Boulevard in Brampton.   In 2014, the City retrofitted two lined bioretention swales within the road right-of-way.  Stormwater treatment performance of each biofilter swale and effluent temperature was continually monitored for 16 months in parallel with an untreated portion of the road.  In addition to help understand the effects of winter operation (e.g. road salt) on treatment performance and maintenance needs, one swale was taken out of service during the winter while the other remained connected to its drainage area.
Webpage       │       Technical brief       │       Case Study
The County Court neighbourhood is the focus of a Sustainable Neighbourhood Action Program (SNAP), a collaborative Brampton-TRCA led initiative to promote widespread adoption of sustainable technologies, practices and lifestyles in the community.