Effectiveness of a Retrofit Biofilter Swale – County Court Boulevard, Brampton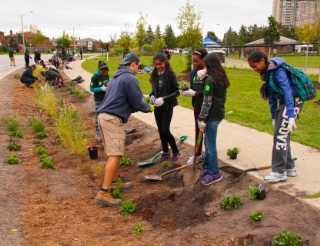 In 2014, the City of Brampton retrofitted two lined bioretention swales (also referred to as biofilter swales, bioswales or dry swales) within the road right-of-way of County Court Boulevard, a medium traffic collector road that services residential, institutional and parkland areas in the neighbourhood.   The County Court neighbourhood is the focus of a Sustainable Neighbourhood Retrofit Action Plan (SNAP), a collaborative Brampton-Toronto and Region Conservation Authority (TRCA) led initiative to promote widespread adoption of sustainable technologies, practices and lifestyles in the community.
The east and west swales are 70 and 85 metres in length, respectively, and 3 m wide.  Their combined road drainage area is 1658 square metres.  Road runoff enters the swales through a series of curb cuts along their length.   The swales feature herb and grass plantings and shredded mulch cover, thereby creating an attractive landscaped feature that also treats road runoff.   Due to the presence of a watermain below the footprints of the swales, impermeable liners and sub-drains were installed in the base that prevent captured stormwater from infiltrating into the underlying subsoil to reduce the risk of infiltration into the pipe when being serviced/repaired (i.e. depressurized).
Performance of the swales will be evaluated in terms of their ability to reduce concentrations and loads of typical stormwater pollutants, reduce runoff volume from the road drainage area and effect on water temperature.    To help understand the effects of winter operation (e.g. road salt) on treatment performance and maintenance needs, one swale will be taken out of service during the winter, and the other will remain connected to its drainage area.
In November 2014, STEP and the City performed simulated storm event tests on each swale to verify that they are functioning as intended, examine runoff reduction performance during a medium sized rainfall event (i.e.  approximately 12 mm, 45 minute rainfall event), and troubleshoot the custom flow monitoring equipment being utilized.  Performance monitoring of the system will begin in the spring of 2015 and continue for two years.