Low Impact Development Stormwater Management Planning and Design Guide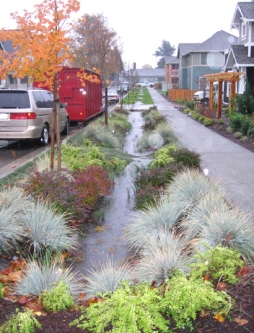 The Low Impact Development (LID) Stormwater Management Guide is a joint initiative of Toronto and Region Conservation Authority (TRCA) and Credit Valley Conservation (CVC), developed in consultation with representatives from the Ministry of the Environment, Fisheries and Oceans Canada, GTA municipalities and the development industry.
Both TRCA and CVC have been involved in integrated watershed-wide environmental monitoring and modelling activities for several years, and the results of this work have revealed that the environmental health of many watersheds continues to decline with increased urbanization. This deterioration has occured despite widespread adoption of the conventional stormwater management planning and design practices described in provincial and conservation authority policy documents. Documents such as the CVC's Credit River Water Management Strategy Update and the TRCA's Watershed Plans for the Rouge (2007), Humber (2008) and Don (2009) Rivers have concluded that a shift away from conventional approaches and towards low impact development is essential to protecting watershed health, and improving watershed resiliency to some of the hydrologic impacts of climate change.
The guide was developed to provide engineers, ecologists and planners with up-to-date information and direction on landscape-based stormwater management planning and low impact development stormwater management practices, and thereby help ensure the continued health of the streams, rivers, lakes, fisheries and terrestrial habitats in the CVC and TRCA watersheds.   It is also intended to help streamline and focus the design and review process, as well as ensure that the goals, objectives and targets outlined in watershed and subwatershed studies are being met.  It addresses not only the planning, selection, design of LID, but also the costs of implementing these practices.
Select a category on the right to download the guide and its appendices, including fact sheets for each of the different LID practices featured.
Sources:
CVC, 2007.  Credit River Water Management Strategy Update.  Mississauga, ON.
TRCA, 2007.  Rouge River Watershed Plan: Towards a Healthy and Sustainable Future.  Report of the Rouge Watershed Task Force.  Toronto, ON.
TRCA, 2008. Humber River Watershed Plan: Pathways to a Healthy Humber. Toronto, ON.
TRCA, 2009. Don River Watershed Plan. Toronto, ON.
Photo: Lake County Stormwater Management Commission