Evaluation of Retrofitted Stormwater Source Control Practices, Calstone Inc., Toronto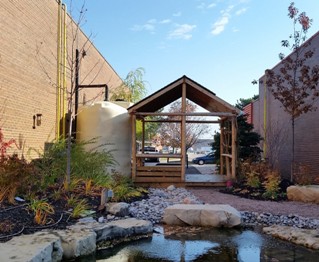 On densely developed lots, where available spaces for stormwater management are often small, isolated or irregularly shaped, source control practices must be compact and adaptable.  Rainwater cisterns, soakaways and infiltration trenches are types of low impact development (LID) practices that can fit into tight spaces.  This study evaluates the performance of a treatment train of these LID practices retrofitted by Calstone Inc. onto their property to harvest and manage runoff from their 3,900 m2 roof.
The Calstone Inc. property is located in a densely-developed industrial-commercial neighbourhood of Toronto that drains to the Malvern Branch of Highland Creek.  In 2014 Calstone Inc. conceived of a project to create a new green space for employees by renovating an underutilized landscaped area, provide a rainwater harvesting and irrigation system for landscape maintenance and help reduce the volume of runoff being sent to storm sewers and Highland Creek from their property.  With supportive grants from Earth Day Canada, Ontario Ministry of the Environment and Climate Change (now Ministry of Environment, Conservation and Parks), the project included additions of a 9,300 L rainwater cistern and landscape irrigation system, a rear lot infiltration trench, three soakaway ponds and a lined, decorative pond and fountain.  Combined these features disconnect 4 of 6 roof drains (2,600 m2 roof area) from municipal storm sewers, which produce approximately 1.8 million L (1,800 m3) of runoff in an average year.
Stormwater performance parameters examined through field monitoring were runoff volume reduction, municipal water conservation/rainwater use, pond drainage rate and frequency and cause of overflows.  Results show that the rainwater harvesting cistern/irrigation system and soakaway ponds/infiltration trench reduced runoff volume from their roof drainage areas by 64% and 89% respectively over the summer to fall 2015 evaluation period.  Based on these findings, several recommendations for future designs and further research are provided.