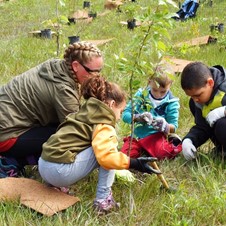 Toronto and Region Conservation Authority (TRCA), the City of Toronto and the Pocket Community Association (PCA) have come together in a new and exciting collaboration to bring the Sustainable Neighbourhood Action Program (SNAP) to the Pocket neighbourhood.
The Pocket is a neighbourhood in Toronto's East End, bounded by Jones Avenue, the rail tracks, Greenwood Avenue, and the Danforth. Primarily developed in the early 1900s, it has 773 houses and five multi-unit residential buildings, parks, commercial and institutional properties, with great opportunities for urban renewal.
The Pocket is home to a highly connected and dedicated community with a passion for environmental improvement. Community members have volunteered hundreds of hours, researched, educated themselves, and mobilized in an effort to make their neighbourhood more sustainable.
A Neighbourhood Action Plan will be developed, that  builds on the community's great ideas, as well as explores new opportunities to make the neighbourhood more sustainable and a better place to live. It will look at opportunities for things like energy and water conservation, native species plantings and habitat creation projects, recreation, arts and culture.