Smarter Home Heating
Raising Awareness for Heat Pump Deployment in GTHA and Ontario Single-family Homes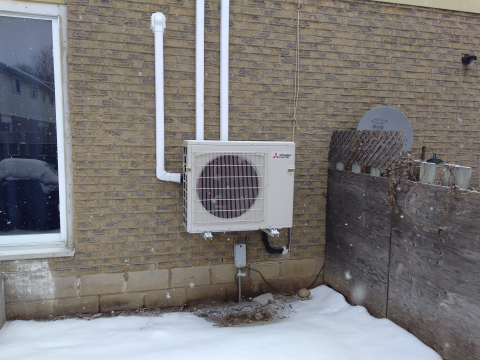 In Ontario, the costs of fossil fuels are on the rise and conventional home heating systems are getting expensive to operate. You have smarter alternatives for home heating and cooling, like an electric heat pump.
A heat pump can completely replace a conventional heating and cooling system (like a furnace and air-conditioner), or work with the existing system. There are heat pump options for every home and budget, and using a heat pump will lower your energy bills.
Heat pumps are also the greenest way to heat your home and are a key technology to reduce the negative impacts of climate change. Don't wait for your furnace or A/C to breakdown entirely. Think about a heat pump today. Rebates are available.
Throughout 2022 and 2023, The Sustainable Technologies Evaluation Program (STEP) is leading a communications campaign to support the deployment of ASHPs in existing homes within the Greater Toronto and Hamilton Area. Primary funding for this initiative is being provided by The Atmospheric Fund (TAF) with additional base funding support from The City of Toronto, Region of Peel, and York Region.
We are continuously updating our resources so please be sure to visit our page regularly. For now, please feel free to explore the different resources we've prepared so far like homeowner case studies, media articles, recorded webinars – or click on our portal to ask us a question directly.
Testimonials
Webinars
Case Studies
Case Study 2

Case Study 3
Case Study 4

Case Study 5