Evaluation of a Smart Hybrid Combined Heat and Power Furnace in Single Family Homes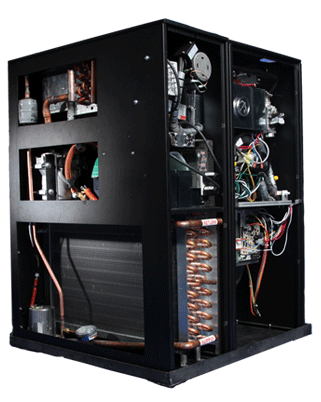 The majority of residential energy consumption is used for heating, ventilation, and air conditioning (HVAC), accounting for approximately 40% of the world's energy consumption. The heating component of the HVAC system typically uses electricity or natural gas as an input fuel. Both these fuels can produce varying amounts of carbon emissions depending on the electrical supply mix. Some new natural gas operated furnaces utilize  a micro-combined heat and power (mCHP) unit that generates electrical power for critical building loads in addition to supplying the heating needs of a home. This new furnace hardware also has the unique ability to switch operating modes to be powered by electricity and/or use auxiliary inputs to integrate renewable energy sources within the mechanical plant. This function allows the furnace to:
switch to electric heating during low emission conditions on the electricity grid, providing a cost competitive way to reduce carbon emissions related to household heating;
directly integrate renewable photovoltaic sources to power the electric heating element;
generate on-site electricity during marginally high emitting conditions on the electrical grid;
self-power in the event of a grid outage and support other critical loads within the building (domestic water heater, refrigerator, modem, etc.) providing added resiliency and
a wide array of other use cases such as energy storage to drastically reduce GHG emissions.
STEP is currently working to develop intelligent fuel-switching control that would allow the furnace to fuel-switch autonomously. The performance of the smart mCHP furnace with the control will be monitored over an 18-month period at the Archetype Sustainable House. Using collected data, an estimation of the potential energy savings, carbon savings and financial impacts of the system if deployed on a large scale will be developed. A robust business case analysis with information included on the device cost, installation cost and ongoing operational costs will also be developed.
This is the fourth of a four-project series aimed at examining high-impact carbon saving technologies. STEP is conducting performance evaluations of four carbon-saving technologies, each with reasonable potential for dissemination within the Canadian market. Qualitative aspects and the potential for a business case for each technology are also considered in order to address potential barriers to uptake of the technologies. As the projects are completed, key findings will be delivered to relevant stakeholders, as well as be made available to the public. The four-part series of projects is funded by The Atmospheric Fund.
Photo credit: iGEN Technologies