Risk and Return on Investment Tool (RROIT Version 1.0)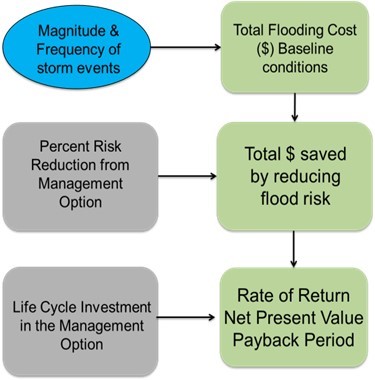 Traditionally, Flood Mitigation Plans can range from $200,000-$300,000 based on the complexity of the plan. By using the Tool, municipalities develop Flood Mitigation Plans at an estimated cost $25,000 to $50,000 making it more feasible for small, medium municipalities to understand flood risks and evaluate options; allowing municipalities to focus funding on implementation and maintenance of assets as opposed to planning.  The Tool will also provide flood risk mapping to educate and inform Councilors and the general public of risks and opportunities.
National Disaster Mitigation Program Stream 3, Disaster Mitigation Action Fund (DMAF) and Infrastructure Canada's Climate Change Lens require climate change risk assessments and return on investment analyses as prerequisites for infrastructure funding. With support through the National Disaster Mitigation Program, Credit Valley Conservation Authority and partners are developing a Risk and Return on Investment Tool for water infrastructure to assist municipalities and conservation authorities to make evidence-based, cost-effective decisions to reduce flood risk and meet funding requirements.
The tool will perform the following key functions:
Regional climate change projections
Assess baseline flood & erosion risks associated with extreme rainfall events, and quantify the potential damages to private and public infrastructure, and vulnerable populations under current and future climate
Evaluate and compare risk-reduction achievable by management options (e.g. grey and green stormwater infrastructure, land acquisition, flood proofing etc.)
Perform a financial assessment of the return on investment associated with each or combination of management options by comparing life cycle costs to the benefits (i.e.: cost savings) achieved by reducing flood risk under various climate change scenarios
Identification of high risk areas that considers social, health, infrastructure and environmental vulnerabilities
The Tool will include a user-friendly, web-based interface, which will prompt the user for data regarding the relationships that exist for their specific water infrastructure systems, while also providing pre-programmed relationships and data from similarly-situated municipalities. See Sample Tool output results.
 If you are interested in learning more about the RROIT or would like to participate as a case study, please contact:
Christine Zimmer at Christine.zimmer@cvc.ca
Amanjot Singh at Amanjot.singh@cvc.ca