Specifying Salt Management Best Practices in Parking Lot Winter Maintenance Contracts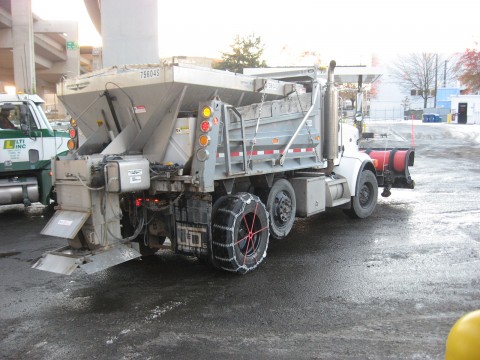 This project provides guidance on how to develop parking lot snow and ice management contracts that encourage the use of best practices for salt management established by Environment Canada and other organizations such as the Transportation Association of Canada.   These best practices will not only help ensure that the 'right' amount of salt is applied to manage risk, but can also reduce the amount of money businesses spend on salt, while minimizing salt damage to building infrastructure.
Parking lots are often subject to very high rates of road salt application.  Several factors have been identified that cause contractors and ground maintenance crews to over-apply road salts.  These include:
a lack of clear guidance on appropriate salt application rates for parking lot surfaces;
the desire among private business owners and contractors to minimize their legal exposure and risk from civil suits;
cost considerations associated with the need for repeat applications within a 24 hour period;
contracts that do not require high standards or allow contractors to charge based on the amount of salt being applied;
outdated, ineffective and uncalibrated salt spreading equipment that does not allow the operator to effectively control the amount of salt being applied;
the absence of documentation and data logging capabilities that result in higher insurance premiums because without detailed records most slip and fall suits must be settled out of court; and
a lack of targeted training on the amount of salt to apply under different conditions, how equipment should be calibrated to ensure optimal performance, and the type and detail of records needed to minimize risk from slip and fall suits.
The procurement guidance document addresses these issues by introducing contract elements that promote the use of best practices for road salt application, drawing on advances in snow and ice control technology and industry practice.  Based on a review of several winter maintenance contracts from municipalities and organizations across Southern Ontario, nine key areas have been identified that are likely to reduce road salt use while maintaining high levels of service and transportation safety:
Contract pricing structure
Equipment and calibration
Application practices
Materials
Application rates
Record keeping
Decision-making tools
Contractor training
Performance measures
The final procurement guidance document is now available – see downloads on the right side bar.
---
Photo Credit: David H. Thompson via Compfight cc