Residential Stormwater Landscaping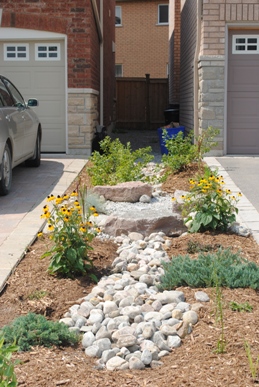 The use of structural technologies and landscaping to promote infiltration of roof runoff on individual lots is recognized as one of the most effective and least costly stormwater management practices.  Some advantages of roof leader infiltration technologies include:
minimal risk to groundwater because roof runoff contains no de-icing salts and is generally cleaner than runoff from other impervious surfaces such as roads and parking lots;
maintenance of pre-development hydrological regime and groundwater recharge;
low-cost, easy installation and maintenance by building owner;
easily incorporated safety measures to avoid flooding or back-yard ponding from overflows;
reduced need for costly and space consuming stormwater treatment facilities downstream;
reduced use of treated municipal water when roof runoff is used for irrigation, and
aesthetic appeal and potential to support a diversity of plant life.
Various techniques have been developed to infiltrate roof runoff.  These include rain gardens, soakaways, drainage to landscaped areas with suitable topsoil depth and quality (i.e. downspout disconnection) and perforated pipe systems.