Performance Assessment of a Swale/Perforated Pipe Stormwater Infiltration System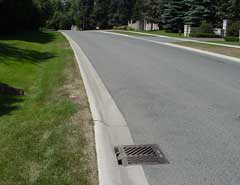 This innovative curb and gutter infiltration system was constructed in a low density residential neighbourhood in Toronto (formerly North York).  Drainage at the site was previously served by roadside ditches and conventional storm sewers.  The infiltration system incorporates two complementary components, a grassed swale and an underground infiltration trench and perforated pipe located below the swale.  The swale receives right-of-way boulevard and property lot overland drainage.  Runoff from the street and driveways drains to roadside catchbasins and then into a perforated pipe and gravel filled trench.  From the trench, water seeps into the surrounding soils.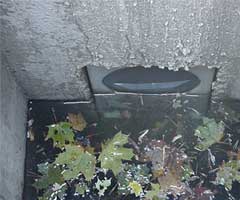 This site was monitored under the SWAMP program for two years in 1998 and 1999.  A nearby neighbourhood with similar land use served by conventional storm sewers was monitored as a reference site to estimate flows and the quality of runoff entering the system. The monitoring program included automated measurements of flow, rainfall and water quality.  Additional insights on the hydraulic capacity of the system were gained by pumping water into the system from fire hydrants and monitoring the effects.
For monitoring results on this project, see the report entitled Performance Assessment of a Swale/Perforated Pipe Stormwater Infiltration System – Toronto