National Research Council Field Roofing Facility – Ottawa, Ontario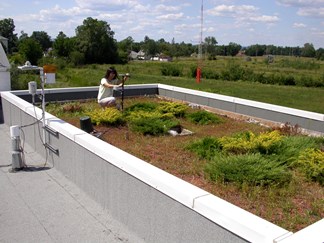 This study was undertaken by the National Research Council in partnership with Environment Canada, the Climate Change Action Fund, and members of the Canadian Roofing industry.  Initiated in November 2000, the objective of this study was to investigate the impact of climate variability on greenroof performance and to demonstrate the benefits of greenroof systems in a Canadian climate.  Monitoring of the greenroof and a reference roof at the NRC Field Roofing Facility in Ottawa included measurement of the following:
temperature profile through the roofing system
heat flux across the system
solar reflectance
soil moisture
garden microclimate
stormwater runoff
local meteorological data
For detailed results of this monitoring study, see the report entitled Energy Efficiency and Environmental Benefits of Rooftop Gardens.