Blue Roofs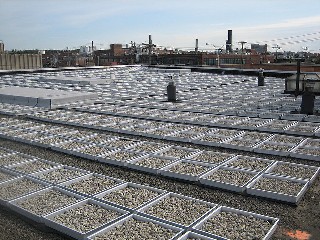 While green roof technology has been one of the main focus areas in the realm of low impact development for more than a decade, blue roofs are increasingly being recognized as a viable and cost-effective alternative for rooftop stormwater management.  On blue roofs, stormwater is detained and then slowly released over time through the use of flow control devices or structures.
The resulting stormwater peak flow reduction is particularly important in areas with combined sewers, like Toronto, where large storm events result in overflows of untreated stormwater and sewage being discharged directly into rivers and lakes. In addition to reducing stormwater peak flows, this practice can also reduce the total volume of runoff from the roof through evaporation when designed appropriately. Monitoring of blue roof systems in New York demonstrated that they were capable of retaining significantly more runoff than a reference roof with no flow controls.¹
Blue roof technology can be applied on flat roofs of buildings that are structurally capable of accommodating the additional load of system components and detained stormwater.  Several different blue roof configurations are possible, including:
flow-restricting roof drains;
modular tray systems, weighed down with ballast; and
check dams installed to pond sheet flow to roof drains.
The suitability of a blue roof and potential design options for a given building are determined based on various factors, including structural capacity, roof type and slope, local climate and local regulatory requirements.  For example, the Ontario Building Code (O.Reg. 332/12) specifies the maximum allowable drain down time (24 hours) and ponding depth (15 cm) for rooftops where a flow control roof drain is installed.
¹New York City Dept. of Environmental  Protection, 2012.  NYC Green Infrastructure Plan: 2012 Green Infrastructure Pilot Monitoring Report.
Photo credit: NYC Dept. of Environmental Protection