Rumble Pond Adaptive Stormwater Management Infrastructure – Richmond Hill, Ontario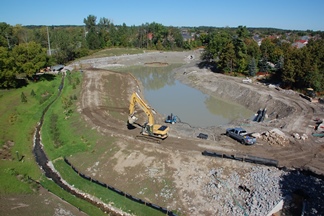 Once construction is complete by summer 2014, Rumble Pond will serve as a demonstration of a modern and adaptive stormwater management facility, featuring innovative pre-treatment technologies and outlet controls, and permeable pavers on walkways surrounding the pond. In 2012, the Town of Richmond Hill initiated the rehabilitation of Rumble Pond. The facility was first constructed in the 1980s as an online pond draining a 44 hectare residential area. Rehabilitation was focused on addressing the following key issues that were compromising the pond's performance:
The substantial accumulation of sediment in the pond since its construction had greatly compromised its ability to provide water quantity and quality control.
The fact that the pond was online, with Patterson Creek flowing through it, resulted in warmer water being discharged to the watercourse downstream of the pond. These elevated temperatures are not suitable for the fish species found in Patterson Creek.
The presence of an outflow weir controlling flow from the pond to the creek was acting as a barrier to the passage of fish.
In addition to the realignment and naturalization of Patterson Creek, the project will also see the installation of the following innovative practices at the new Rumble Pond facility:
Real-time monitoring of water level, flow, turbidity and temperature in the facility and receiving watercourse.
An automated outfall control structure that can be operated to optimize the performance of the pond with respect to water quality, peak flow control, and thermal impacts.
AquaPave® permeable pavers on walkways to help infiltrate stormwater and minimize runoff to the pond from adjacent slopes.
Placement of a nutrient absorbing product, Sorbtive® Media, under the pavers to keep nutrients and contaminants out of the pond.
The use of Stormceptor® oil grit separators and a Jellyfish® Filter system upstream of the pond to pretreat stormwater and substantially reduce the frequency of costly dredging of pond sediments.
Performance monitoring of the pond will begin in spring of 2014 to quantify the benefits of the various innovative features and provide recommendations on future stormwater pond design.
Click here for more information on the Rumble Pond Adaptive Stormwater Management Infrastructure on the Town of Richmond Hill website, or see available downloads on the right side bar.