Performance Assessment of a Pond-Wetland Stormwater Management Facility – Markham, Ontario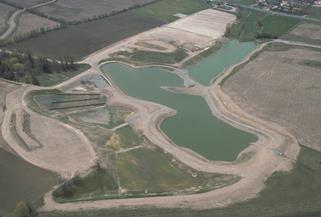 This facility in Markham is a unique example of a modern, 'centralized' facility that treats runoff from multiple subdivisions spread over a 600 hectare drainage area.  Consisting of a forebay, pond and wetland, the facility exceeds Ontario Ministry of the Environment's 'enhanced level' storage requirements for wet ponds.  It has built-in capacity for peak flow control, base-flow augmentation, water quality treatment and downstream erosion control.  The large wetland at the downstream end of the facility helps to polish treated water from the pond while serving as habitat for birds, mammals and aquatic species.  Flow out of the pond is regulated via an innovative 'distributed runoff control' structure outlet that draws cool water from deep in the pond for temperature control and is specially designed to reduce the frequency of bank-full flows in the downstream channel.
Continuous water quantity, temperature and water quality data were collected from November 1998 to December 1999.  Measurements were taken at the two outlets but also at intermediate points within the facility to assess the relative contribution that each of the cells provides to overall facility performance.  Channel morphology measurements were undertaken at various intervals before and after construction of the pond to evaluate the facility's ability to control downstream erosion rates.
For monitoring results on this project, see the report entitled Performance Assessment of a Pond-Wetland Stormwater Management Facility – Markham, Ontario