Performance Assessment of an Open and Covered Stormwater Wetland System – Aurora, Ontario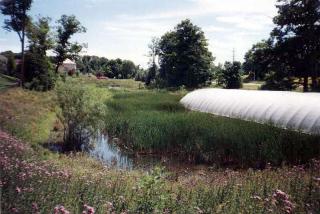 The wetland monitored under the SWAMP program in Aurora, Ontario is a surface flow wetland that treats runoff from an 82 hectare, predominantly residential, drainage area.  The facility was originally constructed as a dry pond in 1988, but it evolved naturally into a wetland as moist soils created a suitable habitat for aquatic plants.  Further modifications occurred in 1995 when an outlet structure was added to the facility prior to the study.  This structure increased the time that solids could settle out by detaining runoff over a 3 to 5 day period as water in the facility was slowly released to the nearest watercourse.   A heated greenhouse was installed in the wetland as part of the SWAMP study to assess the role temperature plays in wetland treatment and to evaluate potential solutions for enhancing performance during cold weather.
The wetland facility was intensively monitored from July 1996 to June 1998.  The monitoring program included automated measurements of water budget components (flow, groundwater, evaporation, rainfall), temperature, and water quality.  Sediment chemistry and toxicity tests were used to assess biological effects.  Analysis of the above and below ground tissue chemistry of plants provided insights into the contribution of vegetation to water quality improvement.
Although the wetland was not designed to provincial standards for stormwater wetlands, the facility nevertheless provided good control of peak flows and reasonable levels of treatment for most contaminants.
For detailed monitoring results on this project, see the report entitled Performance Assessment of an Open and Covered Stormwater Wetland System – Aurora, Ontario