Off Grid Learning Centre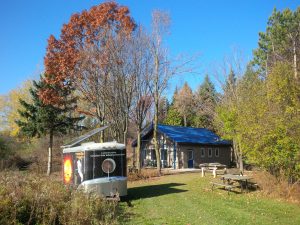 There are currently two design strategies evolving in high performance buildings. One is increasing the mass inside of a home to aid in thermal storage and the other is low thermal mass (Passive House) to aid in time-of-use heating strategies. The refurbishment of the Off Grid Learning Centre allows for both scenarios to be investigated within the context of a single high performance building envelope.
The Off Grid Learning Centre (previously the Solar Cottage) was originally built more than 25 years ago to demonstrate a highly insulated, off-grid building. The refurbishment focused on a high performance, durable building envelope suitable for Northern climates. Objectives for the refurbishment included:
Address high moisture loading due to high occupancy levels and poor ventilation
Installation of low energy consumption, high thermal performance, air tempering, ventilation system
Employ passive solar design to reduce the demand on the conventional heating system
Utilize durable and low maintenance materials
Simple and efficient design that is easily replicable , optimizes the use of materials to reduce costs and construction waste, and utilizes readily available or transportable materials
Investigate the impact of thermal mass in a residential building
The passive solar design of the Centre includes optimized light transmittance coatings on the windows based on their orientation, which allows the building to absorb beneficial solar gains in winter while minimizing unwanted summertime gains. Based on recent building energy simulations, the Off Grid Learning Centre will require 82% less energy for space heating on an annual basis relative to existing standard homes.  The Centre now receives power from local renewable sources: the Living City Campus's 720 Watt solar photovoltaic system and  350 Watt wind turbine (with power stored in a 13 kWh battery array). The building can operate on the small power generation system because electricity is not used for the building's themal loads, reserving all power for lights, appliances, plug loads, fans, and pumps. Domestic hot water is heated using liquid solar thermal collectors and stored in a small tank. Space heating will be provided with a small wood-fired pellet stove (30 Kbtu/hr) when necessary, and space cooling will be provided through fresh ventilation air that is pre-cooled by a water loop submerged in a cold well. By connecting a sub-soil heat exchanger to the energy recover ventilator, this system will extract up to 3.5 kW of heat continuously from incoming air, providing a cool space during summer while maintaining good air quality and using very little electricity.
The now complete Off Grid Learning Centre will serve as a new Living Lab to be used by academic and industry research partners involved in advanced building design to answer building science questions regarding innovative, high performance, building envelopes.