Low Impact Development Infrastructure Performance and Risk Assessment – Wychwood Subdivision, Brampton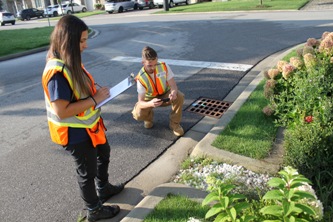 Located in the City of Brampton, the Wychwood subdivision is designed to allow stormwater runoff to be managed through a variety of low impact development features that provide enhanced water quality and quantity treatment. As part of an infrastructure performance and risk assessment program, Credit Valley Conservation is conducting comprehensive monitoring and inspection at Wychwood to evaluate the combined performance of permeable paver driveways, rain gardens, infiltration trenches, oil and grit separators, and a bioswale. Monitoring carried out from 2016 to 2020 has focused on quantifying the reduction in runoff volume and pollutant load from the site to the Credit River, to which it discharges. This evaluation is achieved by:  
Collecting stormwater quantity and quality performance data from a range of precipitation event sizes. 

 

Conducting site inspections and maintenance activities to evaluate the condition of the feature throughout its life cycle, starting at construction.

 

Tracking the frequency and cost of maintenance activities and the impact on feature performance; to inform asset management protocols and provide guidance to optimize assets in future development applications

. 

 
Due to the site's unique stormwater management design, the Ontario Ministry of the Environment, Conservation and Parks (MECP) included specific monitoring, inspection, and reporting criteria in the site's Environmental Compliance Approval (ECA). The Wychwood Subdivision Technical Monitoring Report summarizes the performance results of CVC's monitoring and inspections from January 2016 to December 2017. During this time, CVC: 
Analyzed 125 precipitation events, 

 

Collected 41 water quality composite samples, 

 

Collected 3 event grab samples within the event size and season criteria as required by the ECA.
CVC will complete the multi-year monitoring study of the Wychwood Subdivision under the Infrastructure Performance Risk Assessment Program at the end of 2020. A final technical brief will be available upon the completion of the project.