Svend De bruyn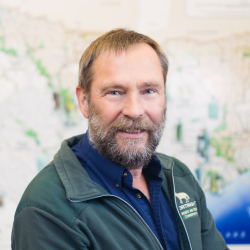 Svend De bruyn is a Sustainable Technologies Specialist at the Kortright Centre. He is an advisor and consultant to industry and governments on photovoltaic and wind energy systems best practices. He also advises on safety related issues for industry, government, municipalities, and utilities.
Mr. De bruyn designs and instructs both photovoltaic (PV) and wind installation courses for public audiences, including a 5 day PV training workshop for business, college staff, and new installers. He has worked with the Sustainable Technologies Evaluation Program (STEP), a division in the TRCA on wind and PV test and analysis projects, and coordinated RE training and education programs for the public, students, colleges, universities, government agencies and industry.
Svend De bruyn brings with him 25 years in the PV and wind industry where he was responsible for the sale, service & installation of RE equipment and subcontractor to various RE companies, performing the installation of wind turbines and PV systems. He was also RE consultant for the Canadian Wind Energy Association and was a part time instructor of Renewable Energy at Durham College.